For centuries, fashion designers have introduced some outlandish and bizarre designs in their collections to attract publicity and really drive home the theme of the collection. Now with 3D printing technology at their disposal, Pandora's box is wide open and almost anything is possible in the world of fashion.
In the beginning…
3D printed dresses first made their appearance in the limelight back in 2013, when the queen of burlesque Dita Von Teese wore a 3D printed gown designed by Michael Schmidt and 3D modeled by architect Francis Bitonti. The gown was printed in nylon and decorated with 13,000 Swarovski crystals, which generated a lot of noise around the world.
Australia joins the game
Gradually, 3D printed clothing and accessories have crept their way into our everyday lives and nowhere more so than in prestigious and famous fashion shows. For the upcoming Fashion Week in Vancouver on March 20, all eyes will be on 23-year-old designer Charne Esterhuizen from Canberra, Australia, who has created a dress from printed rubber butterflies.
If you own a 3D printer, it's best to hide this article from your wife or girlfriend, because if she were to want the same dress, it will take you about six months and just under $70,000 US dollars to make one like it. The print time alone is around 800 hours, and involved a Polish workshop with six machines from "Aussie 3D" running till the late hours of the night. The final product is close to 69 inches tall and adorned with somewhere between 130-150 black rubber butterflies.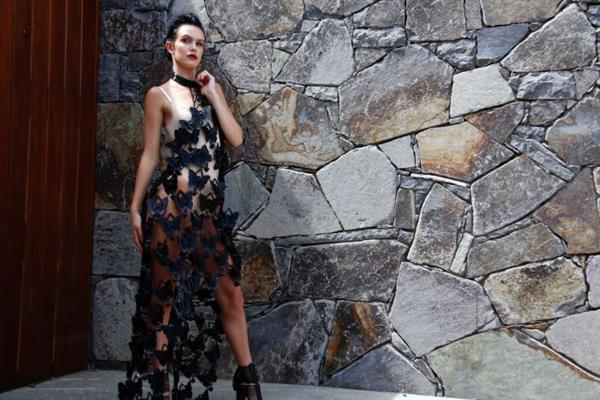 What's Next?
Michael Slavica, who printed the half of butterflies for the dress, also predicts some more shocking fashion developments. "Once we have mastered 3D printing clothing, we will bring in the 4D aspects, which means it is shape changing, - he says, - Imagine a dress with flowers all over it, and it's a black dress, and when the model walks out onto the runway and when she gets to the end, it's hit with an electric current and all the flowers open up and you see a colored dress."
Our blog is also available for anyone with interesting story or useful life hacks, just write to us: press@treatstock.com
Images: www.abc.net.au