Ed Fries may have entered into 3D printing only a few years ago, but it hasn't taken him very long to become really proficient at what he does. We hope that his experience and some of the tips he revealed to us will be helpful for the 3D printing enthusiasts out there.
How many 3D printers do you own? What types of 3D printers do you own? Do you have a favorite printer and if so, why?
Ed Fries: I own four printers that are operational, two core-xy C-Bots with my own modifications (look for the original design on Openbuilds) and two box frame Prusa i3. All four currently have .4 mm nozzles and single extruders. I also have my original MigBot-S6, which is an Afina knock-off, but I had a thermistor short and then open causing it to overheat, and it fried the control board. I probably will never fix because the print area is very small and the printing surface is perfboard, which means everything printed needs a raft. Removing rafts stinks! I have to say I really love the core-xy style of printer the best, the speed difference comparable to the Prusas is extraordinary. That being said my next build is going to be a Cartesian style printer with a huge print area (1m x 1m x 1m) the bed will be stationary and it would be too unstable trying to move the core-xy axis assembly along the z-axis as well, so it will end up being more Prusa like. I do not have an opinion of commercial desktop printers, all I can say is that comparing my finished prints to commercial desktop prints, my quality holds up well. At a maker faire I was at earlier this year, there were two other 3D Printing displays featuring commercial printers and my display was by far the most visited and the one featured in the local newspaper.
Do you operate your 3D printers by yourself or do you have a team? If you have a team, would you care to elaborate on the make-up of your team?
Ed Fries: I operate my 3D printers by myself, but I have started teaching my daughter how to properly do the setup and prints. She is studying stage production and designs sets, props, etc. so 3D printing could be a valuable tool for her as well.
When did you first get into 3D printing? What motivated you to become a print service? What have you found most difficult?
Ed Fries: I received my MigBot as a gift two years ago and after watching my first print I was hooked, and it was a simple toothpaste tube squeezing tool. I built my first Prusa the following spring. I have to say I love building 3D Printers as much as I love printing. I have been approached to build and sell printers but when I think of the one rule every 3D printer knows "3D printers are high maintenance and they break, this is true whether you spend $300 or $2000 on one" I can't imagine what type of support I would be able to provide. 3D printing is fun because it is my hobby. If it became work it might not be as much fun.
What has been your most favorite print you have ever made?
Ed Fries: A tie between a Low Poly Darth Vader from Thingiverse … can't beat combining Star Wars and 3D printing and a diaper bag tag I designed for my friends son, it was one of my first attempts at design, the child has a traditional Japanese name, and I used a scan of his mother's hand-written drawing of the symbol for his name into my design, it was a simple item, but it was my own unique design.
What do you think are the main advantages of 3D printing? Do you see any disadvantages with 3D printing?
Ed Fries: Rapid prototyping is by far the biggest industrial advantage of 3D printing. The ability to hold a physical object in your hand that was designed only a few hours ago is mind-blowing. The biggest disadvantage is that people cannot accept the limitations of the materials. When it comes down to it, even the strongest plastics are still plastic, the thinner it is the easier it is to break.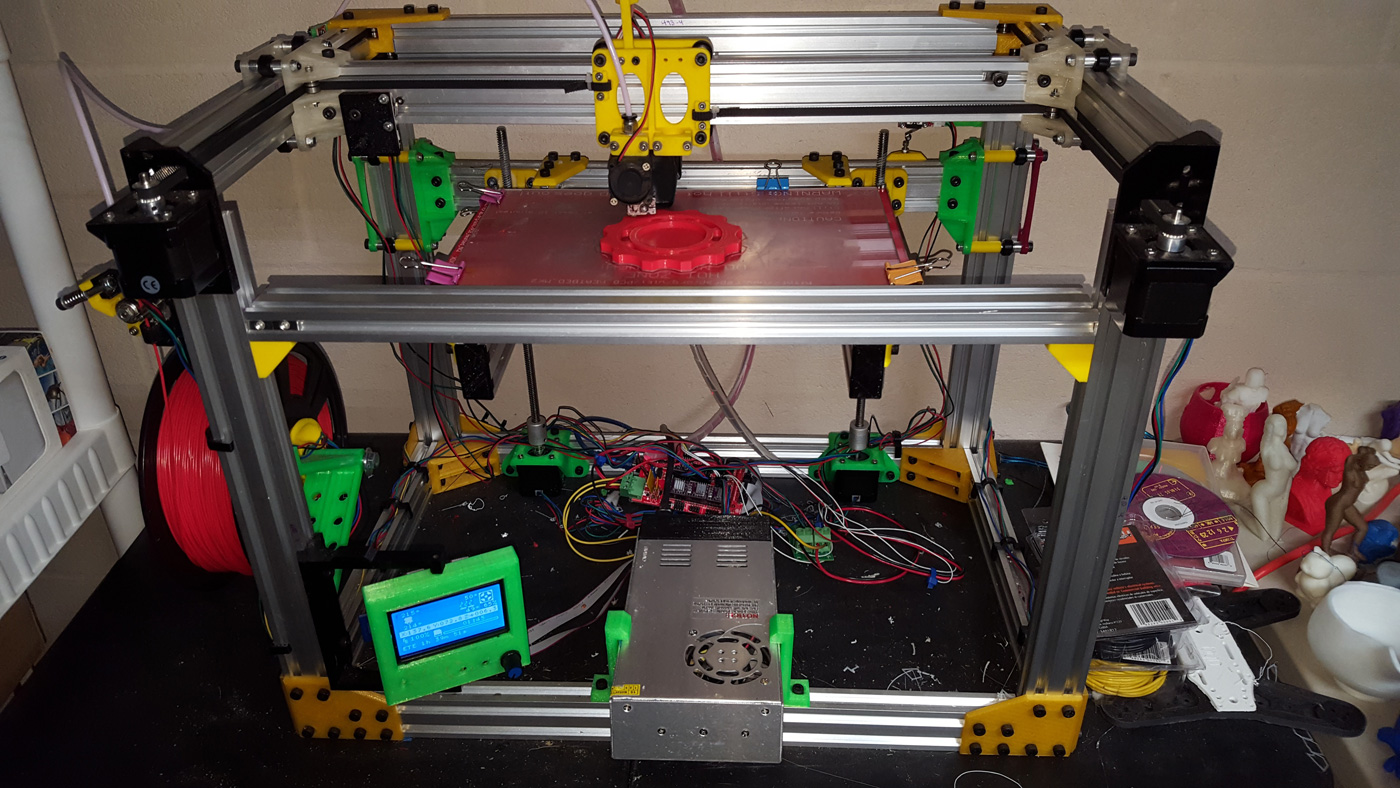 Prusa i3 3D printer in action
How do you usually source your clients?
Ed Fries: I just wait until I get a notification from you guys or requests from friends. Printing is my hobby, that is why I have pretty low prices, if I can provide a decent product at a price that keeps me in filament then I am doing OK!
What has your experience been like on Treatstock? Would you recommend any changes to the site?
Ed Fries: I have had a great experience on Treatstock, support has always been quick to respond and so far the customers have all been easy to communicate with. Sometimes the messaging is kind of clunky on my android phone and uploads sometimes seem very slow but all around it has been pleasant!
What do you think about the certification process for your printers on Treatstock?
Ed Fries: I think it is a fair process and would encourage everyone on Treatstock offering a print service to go for PRO certification. If my homebrew printers can knock out the PRO-cert model I am sure everyone can!
Would you say your print service specializes in an aspect of 3D printing? (for example, certain materials or certain types of prints)
Ed Fries: I can print just about every type of filament, and really do not have a preference. I am not a fan of "Verona" style models, especially in PLA. I would encourage customers to consider wisely and listen to the print service should they suggest a different type of filament. I would probably decline a print job should I know the quality of a print is going to be bad based on filament type and design. I would offer to print it in a more appropriate plastic for the job though.
Why should customers choose your print service over others?
Ed Fries: Don't select just me, try a few of us out and compare. However, I get above average quality and most of the time I get average sized jobs (ones that can be printed on a single plate) printed overnight and shipped quickly at a very reasonable price. I also will let you know if there is an issue and will give you options even if I have already started printing your item, I am pretty flexible.
Thanks a lot for your time, wish you and Steve (it's the dog) all the best!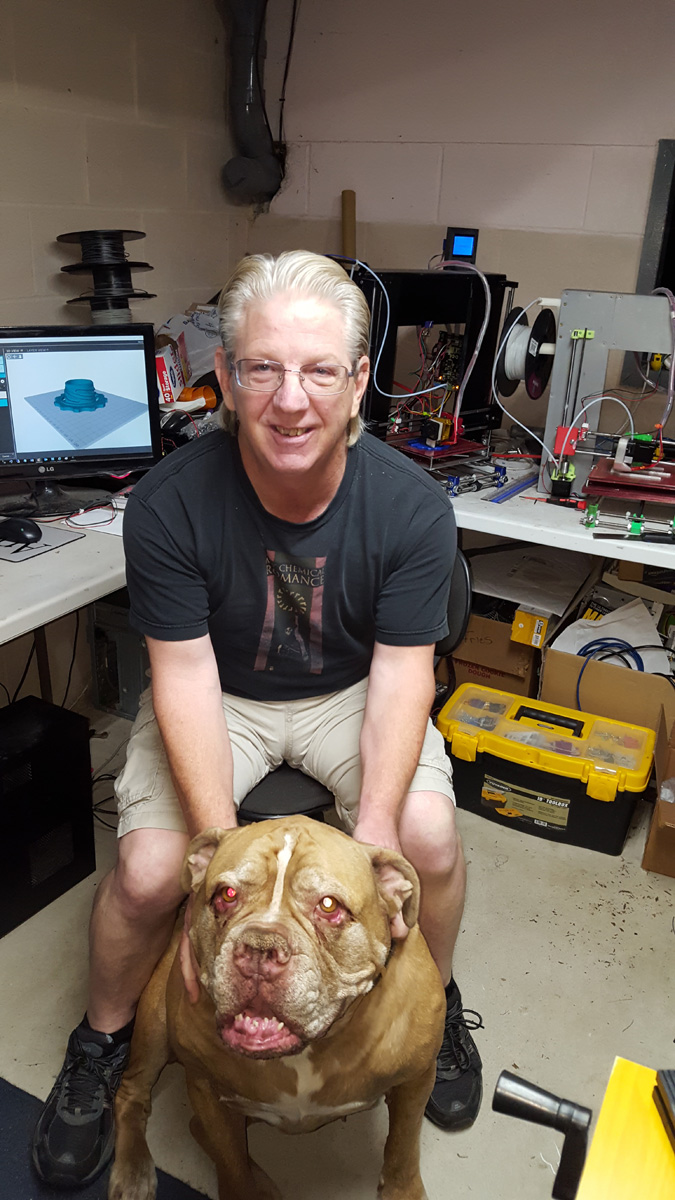 Do you also have a story to share? Write to us at press@treatstock.com