Over the last few years, more and more scientists have begun to use 3D printing for medical purposes. Several hospitals and institutes have utilized the technology to simulate and practice for an upcoming operation on the 3D printed organs. However, the cost is so high that in most cases only 3D rendered images are used which don't truly represent the task at hand. A pre-operative procedure is important in serious cases when the operation is anticipated to be difficult and the patient's life hangs in the balance. The main function of 3D printed organs is to simulate the current condition of the patient's organ, so that means a new model needs to be created for each patient to represent the anatomy of that individual. Even in typical operations, pre-operative planning can make the process faster and shorten the recovery period, reduces blood loss and better resection margins.
Due to the high costs involved and the absence of 3D printers in hospitals, unfortunately not everyone can take advantage of this new technology. The models are complex in nature, understandably, and are made up of several types of materials, meaning a liver costs about $1000 and a kidney – about $500. Moreover, to create a 3D printed organ, an industrial-grade printer is required with a team of experts with medical and technical knowledge.
10 x Cheaper
On January 31, 2017, a team from Poland (Jan Sylwester Witowski, Michał Pędziwiatr, Piotr Major and Andrzej Budzyński) published their article in the "International Journal of Computer Assisted Radiology and Surgery" revealing their new and tested method for 3D printing liver models. This article captured the attention of researchers all around the world and set in motion a collaboration to drastically cut the cost of pre-operative models to help spread the pre-operative process with the use of 3D printing. The goal was achieved – the price of one liver model with cancer metastases is now $150. That is nearly 10 times cheaper! Their cost-effective method includes using inexpensive materials, commercial-grade printers and free software to print an accurate and detailed model. "So far, the only cost-effective liver models that have been generated have represented single hepatic vessels or portal vein, not showing them as a whole anatomy of the area. Not parenchyma nor tumors have been shown in these early attempts of low-cost 3D liver modeling" - the Team says.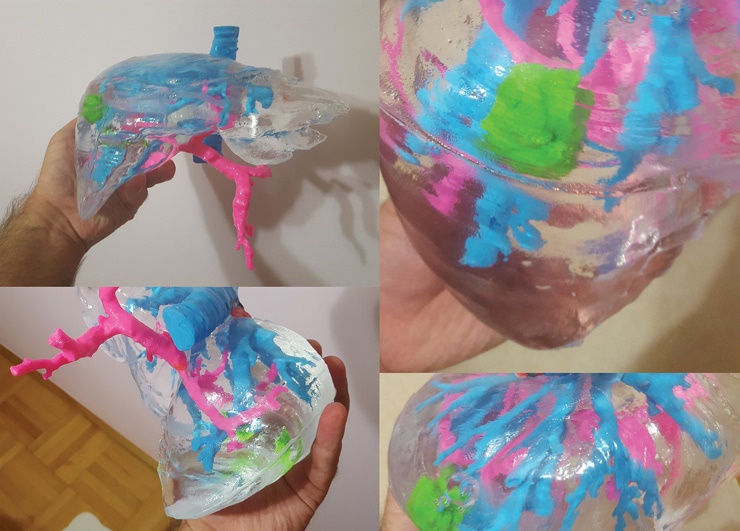 The Key to Success

The new method has four main steps: object segmentation, 3D model computer processing, slicing and 3D printing, finishing and assembly with silicone curing. The process started by saving computer tomography images in DICOM format and importing them into a software called Horos. This open-source program has pre-built functions that automatically segments the anatomical structures of the liver. Of course, specialists also had to make some corrections themselves, but it was still much easier than before. Then they got the STL files and post edited them in another two programs: Meshmixer (Autodesk) and Blender (Blender Foundation). The reason for such a long process is that the model should be separated into several parts for printing in different colors and then put together after that. There also should be a mold for pouring silicone inside to make the liver transparent. The models were sliced in Cura (Ultimaker) software and 3D printed in different colors from PLA material. The authors used FDM Ultimaker 2+ printer, so the printing process took 72 hours, including changing the material. The researchers also had to do some post-print processing to make the parts smoother, so as they will not cause any obscuration in future construction. They sanded, washed and dried the parts. After this, all the pieces were covered with XTC-3D (Smooth-On) resin and left to dry for three hours. Finally, all the parts were sanded and washed once again. "If not processed, PLA liver parenchyma parts would appear significantly cloudy at the silicone surface, which would obscure all of the elements inside and render the model useless", - the authors explain. On the next step, the different parts were connected together with everyday super glue. The entire model was covered in insulating tape and plasticine in the connecting parts. Prepared silicone material was then poured inside the model and left to set for 72 hours. In the end, specialists successfully removed the liver parenchyma parts.

End Result and Counting

At the end of the process, the team produced a full-sized transparent model of a liver with multi-colored structures inside. Total expenditure for the project was under $150. The whole process from 3D modeling to a ready liver model took nearly 160 hours. Compared to more expensive methods, this one is slower, but the researchers urge that specialists can use several 3D printers at the same time to increase the speed. The type of printer is also more readily available – desktop FDM printers can be bought for a few hundred dollars. The first person who tried this method was a 52-year-old female who went through laparoscopic colorectal resection. On her computer tomography, a single metachronous metastasis had been found. After the model was ready, surgeons spent 5 days preparing for the operation, discussing the case and inspecting the model. The operation lasted for 270 minutes with total blood loss at only 150 ml. With such a cost-effective method of 3D printing the models, surgeons can prepare for laparoscopic resection of colorectal cancer metastases like never before. Students can also use these models for educational purposes. As Jan Witowski wrote on his Twitter account: "We have successfully used those models in several cases now. Both surgeons AND patients are extremely happy".

Our blog is also available for anyone with interesting and useful life hacks, just write to us: press@treatstock.com

Try our 3D printing network!