Smartphones were designed to make our lives more convenient by transforming the mobile phone into a computer that comfortably fits into the palm of our hands. It's amazing to think just how far the technology has come since it's inception and with the help of 3D printing, is being used for the early detection of treatable conditions including eye disease, hearing loss, and now cancer.
A team of researchers led by Assistant Professor Lei Li from Washington State University have developed a 3D printed smartphone accessory capable of analyzing blood samples and detecting biomarkers that indicate the presence of cancer in the human body. By utilizing the flash from the smartphone camera, the smartphone spectrometer can measure up to eight different samples simultaneously and detect human interleukin-6 (IL-6), the biomarker for lung, breast, liver, prostate, and epithelial cancers.
"The spectrometer would be especially useful in clinics and hospitals that have a large number of samples without on-site labs, or for doctors who practice abroad or in remote areas. They can't carry a whole lab with them. They need a portable and efficient device," explains Professor Li on the WSU website.
So just how reliable is the 3D printed spectrometer? With results showing that this portable cancer screening device has been found to be up to 99% accurate in its findings, it comes as no surprise that it is now being trialed in real world situations. The study was funded by the National Science Foundation and a WSU startup fund and is part of WSU's Grand Challenges initiative.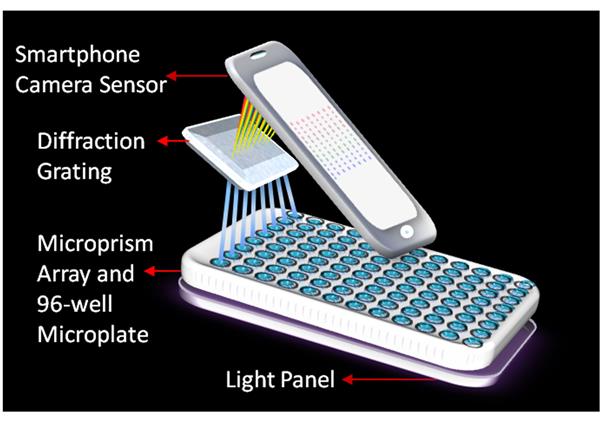 [Image Source news.wsu.edu]