Imagine a 3D printed object that can be easily transformed into another object by using only heat and time. The aforementioned is one of the first achievements in researching the use of shape memory polymers in 3D printing technology. Despite the fact that memory shape materials already exist and are being used in traditional manufacturing, for 3D printing, it is not so common.
Self-recovering objects
We all know who Wolverine is, the comic book character that can instantly recover from injury. Well, shape memory polymers have the same characteristics. The results of a study, which took place in Nanyang, Singapore, show how the 4D printing method can produce flexible, durable and self-recovering objects with prolonged shape memory. The researchers used a DWS SLA printer, but they had many struggles with the materials. Traditionally, SLA machines work with highly cross-linked thermoset polymers, which do not have the abilities for shape memory effects. So, the team developed a new type of resin using a formula they named the tBA-co-DEGDA network, which is based on dual-component phase switching mechanism. For the experiment they 4D printed a C60 bucky-ball (Buckminsterfullerene) model, once finished they flattened it and then put it into hot water. After some time in hot water, it started to reform back to its original shape, not perfectly, but still quite impressive.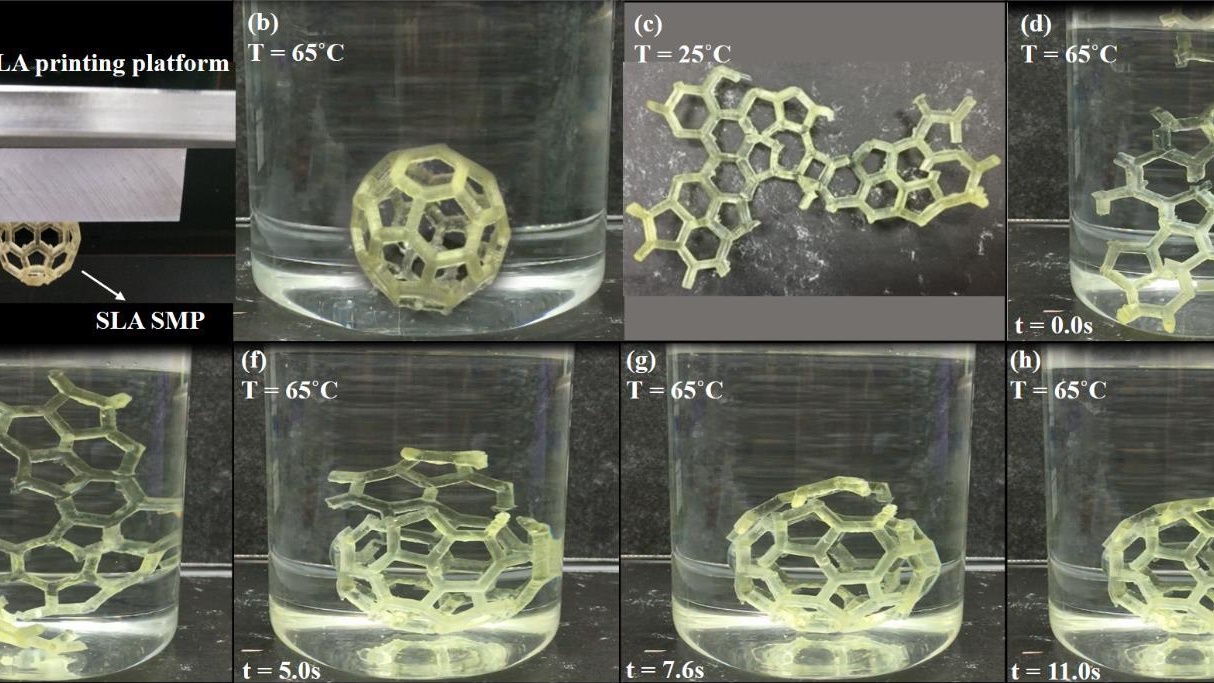 Let it grow
The idea of materials with shape memory for 3D printing has begun captivating more and more people, and there are already a few various experiments on it. One example is a study published in Science Advances, where the expanding objects have been 4D printed. This time the team used a material composed of elastomer and shape memory photopolymer to make a printed stripe, which acquires a programmable shape. The object also goes through the heating, deformation and cooling steps after being 4D printed, but the main result is pretty much the same as the SLA 4D printing method.
With the growing popularity of shape memory materials in the industry, we may have a new way of printing. Such printing will use eight times less material and support structure, it also appears to be faster and more useful. The potential application of the expanding objects is huge, especially in the health care industry. The concept of Guillermo Ameer and Cheng Sun, who developed a method of treating weak and narrow arteries, is a perfect example.
Our blog is also available for anyone with interesting story or useful life hacks, just write to us: press@treatstock.com
Try our 3D printing network!

Images: http://www.sciencedirect.com