How do you make 3D jewelry with a printer?
3D print master model with castable material.
Make the mold by covering the master pattern in plaster material.
Burn out the master model by heating the investment.
Pour in liquefied precious metals and ensure it fills in all the cavities.
Post-processing of the metal piece (grinding, polishing).
These are the main simplified steps of an investment casting method of making metal jewelry. In practice, it takes more attention to details and additional procedures to avoid defects on each step such as removing air bubbles from casting and more.
The process also works for cold casting materials like resins and plastics. In this case, plaster is commonly replaced with silicone allowing to use of non-castable materials for a master model and eliminating a burnout step.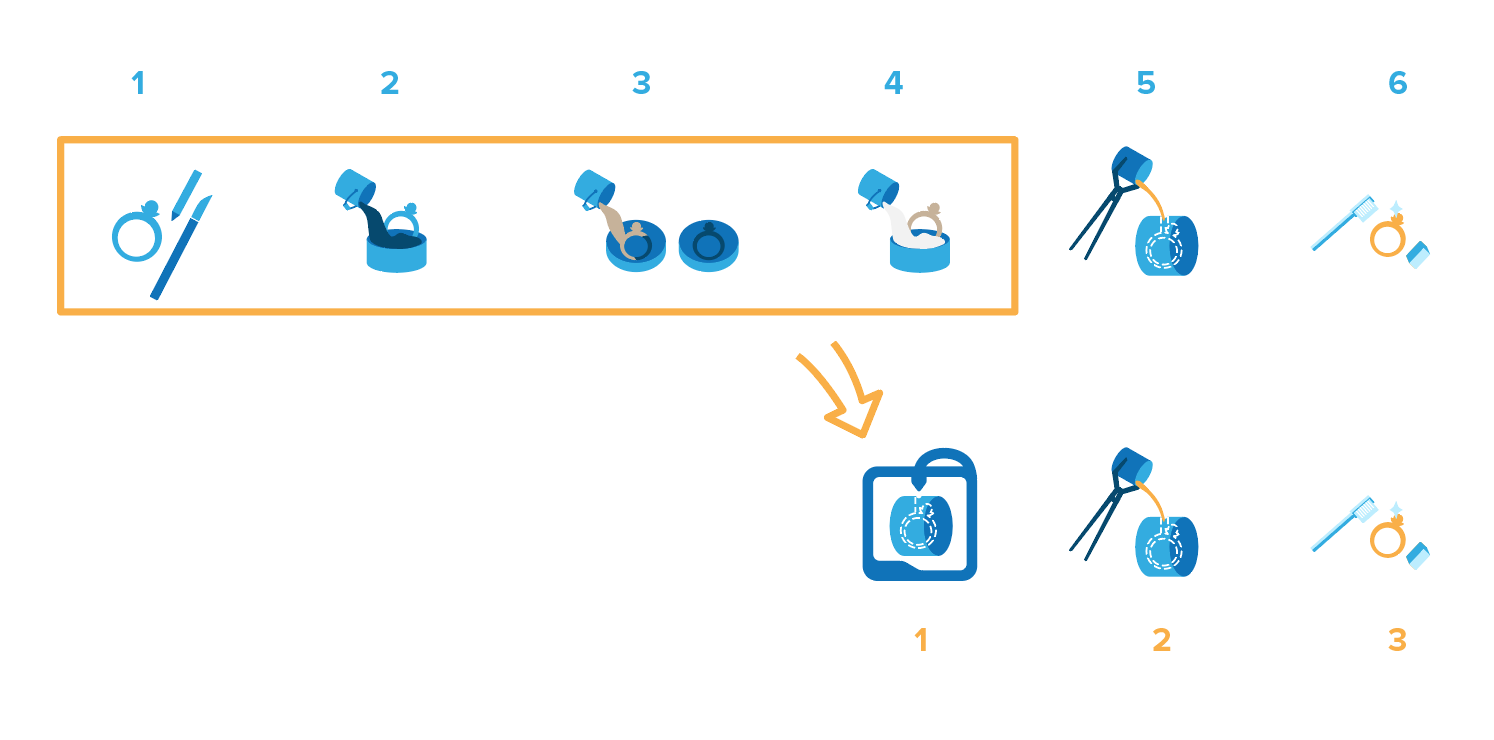 Can 3D printers make jewelry?
Some 3D printing technologies allow making master models, molds, or even final jewelry pieces. Depending on the desired result, several methods can be included in the jewelry-making process:
Resin printing (SLA, DLP, DUP) is widely used for castable master patterns instead of common wax models. It enables creating complex but precise models with a smooth surface finish.
Powder-based technologies (SLS, SLM) allow producing final jewelry pieces from nylon or metals like steel, aluminum, and titanium.
Rarely FDM technology is used for making molds with the use of special wax-based filament or for raw models for cold casting. The huge downside of this technology is very visible layer lines and lower digitalization (compared to other methods).
Can you 3D print with wax?
Castable resins allow making wax-like parts to use them as master models in the jewelry making process. These materials are photopolymers and aren't 100% jewelry wax, however, their properties are comparable to the wax.
Other wax-like materials in 3D printing include composite filaments for FDM/FFF printing created for casting or molding applications. Their properties are designed to be close to wax but these commonly are plastic blends with fillers and not pure waxes.
Where can I find 3d printed jewelry models/designs?
Some 3D design platforms allow searching and downloading free and commercial jewelry models. For a custom jewelry piece, you can hire a 3D designer.