3D printing is a disruptive technology that's had a profound impact across a vast array of industries including healthcare. Additive manufacturing both helps to implement new methods of treating people and decreases the cost of innovative medical technologies.
How is 3D printing impacting the healthcare industry?
One of the main reasons why 3D printing is used in the design and manufacture of medical devices is that it can significantly reduce the cost of healthcare. Every year, billions of dollars are spent on new medical equipment, and additive manufacturing is playing its part by not only stretching every dollar further but also allowing improvements in the delivery of the technology. The International Data Corporation (IDC) published the 3D Printing Spending Guide that contains data for USA, Europe, and Asia/Pacific. The most prominent industries for 3D printing are more or less the same: Automotive, Healthcare and Aerospace. In 2017, the National Institute of Health spent $6.25 million to create a center for 3D bio-printing and regenerative medicine. It's expected that 3D printing in medicine will cost more than $1 billion in 2018.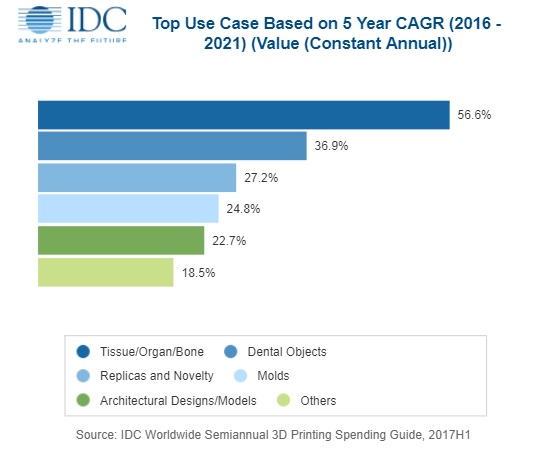 The IDC report states: "Healthcare is also expected to experience the fastest growth, turning an estimated compound annual growth rate (CAGR) of 35.4%. 3D printing/bio-printing solutions for tissue, organ, and bones are cited as leading the spend". With the benefits of cost-effective and customized printing procedures, the healthcare industry can potentially increase expenditure by several times after 2021. Apart from the US, other major investors are Western Europe and China.
How can 3D printing save your life?
There is an infinite number of current and potential benefits that additive manufacturing offers the medical industry now and will offer in the future. We determined the four main categories of how 3D printing impacts healthcare, but please keep in mind that this is only the tip of an enormous iceberg that very soon can far exceed all our expectations.
1. Anatomical Modeling for Surgical Planning
All human beings are different and they have organs and limbs of varying size and shape. Diseases and injuries also vary a lot, all of which can change what would be a standard surgery into a complex and sometimes almost impossible mission. 3D printed anatomically identical models make it possible to practice and predict all the possible issues that can arise during actual surgery. Even in regular cases, pre-operative planning can make the process faster and decrease recovery periods of patients. Doctors of Baystate Medical Center actively use 3D printed models to plan brain surgeries and say it helps tremendously.
Here is an example of Polish specialists using the 3D printed model of the liver for treating cancer. Resin-based materials and DLP/SLA 3D printing technology could be the best choice for realistic replicas of the human heart. Healthcare Simulation Specialist David Escobar claims to use FDM and SLA 3D printers and flexible material because it can represent blood vessels and tissues better than hard plastic. In general, 3D printing technologies such as FDM, SLA, DLP, Polyjet, and many others can be used for medical modeling. If you don't have an access to a 3D printer, you can search our directory to find relevant manufacturers for your project. Simply upload your files for upfront price comparisons or request a quote from a manufacturer of your choice. Some of them even offer services that can transform MRI and CT scans into 3D printable models.
2. 3D printed implants
Implants are one of the most significant components of the medical industry. The fact that every human being is different and has their own unique anatomical structure means that a factory with a production line is just not possible. Each implant is a case by case proposition and thanks to 3D printing, custom implants are more accessible and affordable.
Metal implants
Metal printed parts just so happen to perfectly match bone tissue and leads to a much faster recovery. 3D printing in metal with DMLS and EBM technology is used to fabricate such objects. A group of scientists from the University of North Carolina (UNC) and North Carolina State University (NCSU) researched these two 3D printing technologies. The research was titled: "Osseointegration1 of Coarse and Fine Textured Implants Manufactured by Electron Beam Melting and Direct Metal Laser Sintering".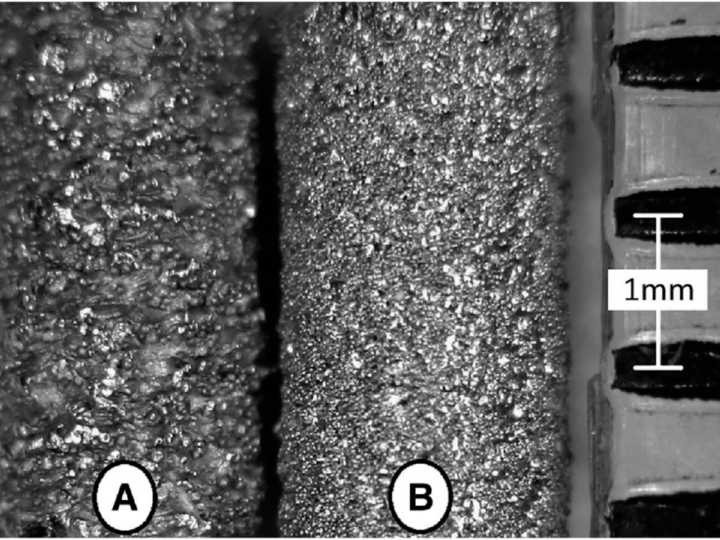 They concluded that the study was important in showing that additive manufacturing can provide means of producing well-fitted osseointegrated implants that could be easily customized. "AM implants provide a means to produce customized geometries to match patient-specific anatomy as well as customized surface textures for optimizing implant stability. This research indicates that coarse textured surfaces can provide a higher interface strength for titanium alloy implants than fine textured surfaces".
Plastic implants
Special plastic and other materials are also possible to be used for 3D printing implants. For instance, in 2012 in Ohio, scientists replaced more than 70% of a person's skull with a 3D print made of Polyetherketoneketone (PEKK). It's a biomedical implant polymer that is similar to bone and is osteoconductive which means that bone cells will be able to grow and attach to small details on its surface.
3. 3D printed prosthetics
Prosthesis is considered to be another topical medical sphere. Well made functional prosthetics can cost thousands of dollars as they are very troublesome to make. 3D printing reduced the cost of manufacturing tenfold by making it available for everyone. Open-source models for prosthetics can be found here:
Low-Cost 3D printed Prosthetic Parts
Every year millions of people including little children require modern prosthetics, however, only 20% of people can afford them. e-NABLE is a global community of volunteers that made such devices easily available for the masses. They share 3D printable models, instructions, and sometimes even assemble them for free by "giving a helping hand" to those who need it.
Next step: 3D printed bionic arms
Open Bionics is a team of engineers and designers that work on world-first affordable and fully functional bionic arms. The CEO of the company Joel Gibbard started work on robotic hands as a teenager. He says that the product that they're developing at the moment is for trans radial amputees which are people that have an upper-limb difference where they still have some of their forearms, but they may be missing anywhere from their hand upwards. Joel goes on to say: "So they still have an elbow joint and this is where the prosthetic socket connects their arm, but they don't have a hand. We have sensors that we place on the wearer's muscles in their arm, and when they flex their muscles, we detect an electrical signal from the surface of their skin. The hand itself has control of each finger independently, and the wearer can give it commands to do different things so that they can move the fingers of the hand with varying power".
Can 3D printers manufacture organs?
You might have read about scientists that 3D printed a kidney or other organs. But the truth of the matter is that additive manufacturing can't provide fully functional organs and fulfill transplant shortages, at least for now anyway. What they can do is replicate the form of some organs using live tissues. Nevertheless, it's the first crucial step towards the next revolution in healthcare. If you want to know how 3D printers affected the orthodontic industry, you can check our guide for using additive manufacturing in dentistry.
Cover image by UC Davis College of Engineering