Helpful tips to be the best 3D print service
Helpful tips to be the best 3D print service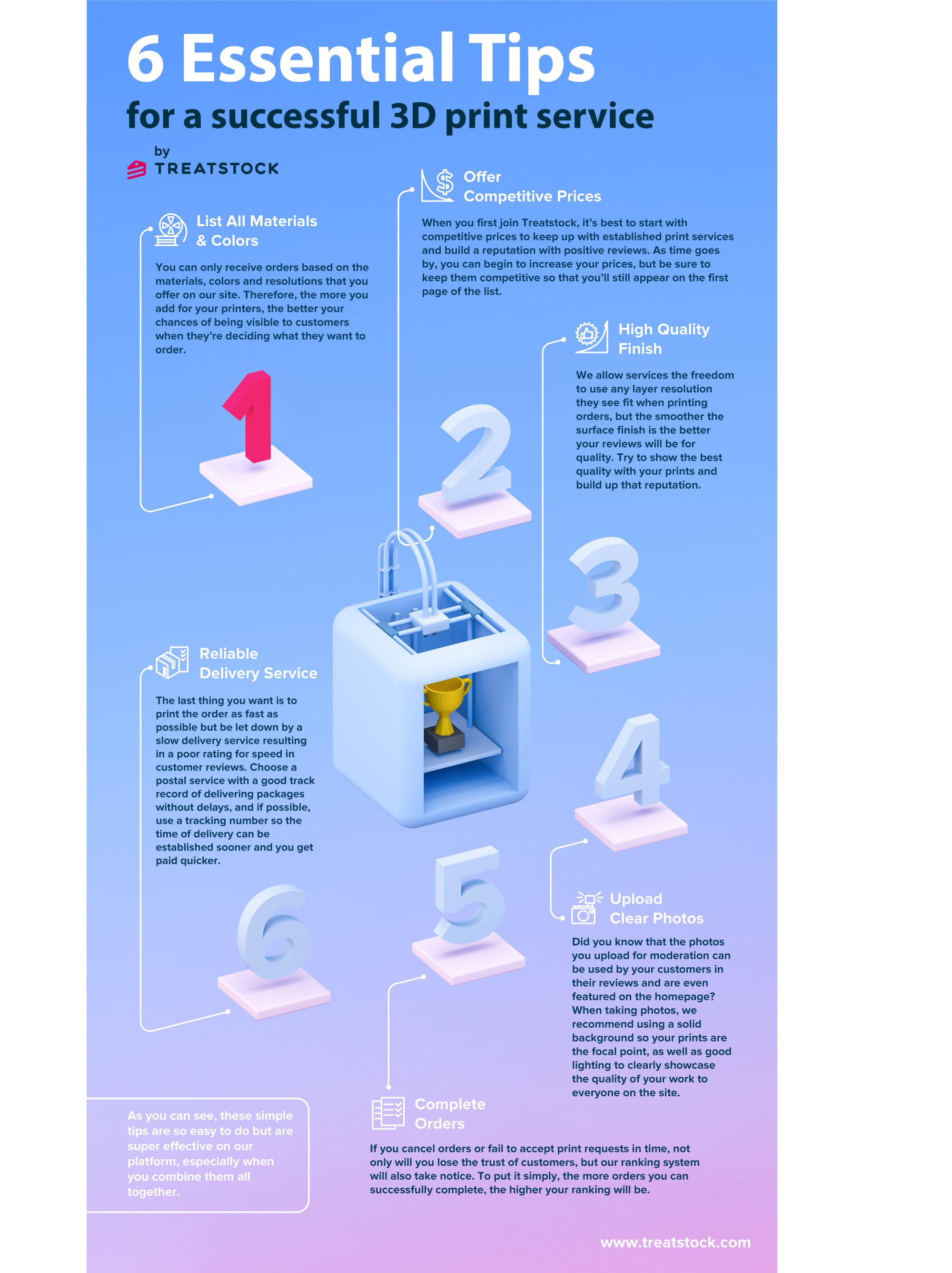 6 Essential Tips to Improve your Treatstock Ranking
On our website, customers can sort through print services by price, location or use our default sorting system. While the first two are clear cut, our default sorting system is more complex and when ranking services we also take into consideration such things as certification, number of completed orders and review ratings. In this article, we'll try to provide an insight into how some simple changes can help improve your ranking and receive more orders on our platform.
1. List All Materials & Colors
You can only receive orders based on the materials and colors that you offer on our site. Therefore, the more materials and colors you add to your printers, the better your chances of being visible to customers when they're deciding who to place their order with. The moment they choose a material or color you don't have, your service will not be shown. If you have exotic materials and rare colors, this can play a huge advantage for you and a chance to leave your competitors behind.
2. Offer Competitive Prices
When you first join Treatstock, it's best to start with low prices to compete with established print services and build a reputation with positive reviews. As time goes by, you can begin to increase your prices, but be sure to keep them competitive so that you'll still appear on the first page of the list. The further down the list you position yourself, the less likely you are to be found by customers. For a guide on how much you should charge, check out our help center page here.
3. High Quality Finish
We allow services the freedom to use any layer resolution they see fit when printing orders (unless stipulated by the customer), but the smoother the surface finish is the better your reviews will be for quality. Try to show the best quality with your prints and build up that reputation. You can also stand apart from your competitors by getting certification which not only helps your ranking, but means that you can receive orders from several of our API partners who work exclusively with only certified printers. To read more about certification, click here.
4. Upload Clear Photos
Did you know that the photos you upload for moderation can be used by your customers in their reviews and are even featured on the homepage? When taking photos, we recommend using a solid background so your prints are the focal point, as well as good lighting to clearly showcase the quality of your work to everyone on the site.
5. Reliable Delivery Service
Clients have shown that they prefer to have their orders shipped more often than not, and the last thing you want is to print the order fast but be let down by a slow delivery service resulting in a poor rating for speed in customer reviews. Choose a postal service with a good track record of delivering packages without delays, and if possible, use a tracking number so the time of delivery can be established sooner and you get paid quicker. Click here to learn more about our shipping guidelines.
6. Complete Orders
If you cancel orders or fail to accept print requests in time, not only will you lose the trust of customers, but our ranking system will also take notice. To put it simply, the more orders you can successfully complete, the higher your ranking will be. To ensure you complete as many orders as possible, make sure you have switched notifications on for both your email and mobile phone, set a minimum order charge to avoid any discrepancies in prices, and if you're going on vacation, or your printers are unavailable, change the status of your printers to inactive.
As you can see, these small secrets are so easy to do but are super effective on our platform, especially when you combine all them together. So, give it a go and see how it works for you. We have also developed Business Tools for print services to generate orders on other websites including the most popular social media platform in the world – Facebook.
---