I received a Quote. What should I do?
I received a Quote. What should I do?
Customers can proceed with quotes to get a manual estimate on their project. Quotes can be created for a Service or Product. For the ones who are new to the platform or didn't have a chance to work with Quotes before, we created this short rundown on how to process the Quotes.
When you receive a new quote, you get a notification in your Sales.

Check the Quote
Start by navigating there and opening the Quote to get an idea of what the customer wants.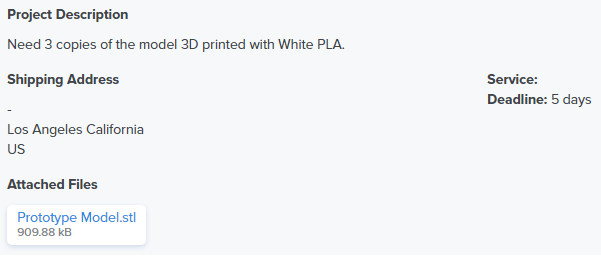 Since quotes are created manually, they can be a hit or miss in terms of project details. Also, there are Quotes for published Products or CNC machining, which will automatically have the default pricing you used when adding these items to your company.
Add services to create an offer
If you can accept the customer's request for a project, instantly proceed to add the pricing and deadline. You can do that on the Quote's page by using the "Create" button. Input the first item or service name into the field along with quantity and pricing. Once you are happy with it, press a checkmark.

Note that the cost you enter is a final estimate – it will not multiply based on the quantity.

If needed, you can add a new line by pressing "Add service" or "Add product" to provide a cost for a separate process. For example, your first estimate can be for 3D printing and the separate one for shipping. Fill it in like the first one and press a checkmark to finish.

When you enter costs, pay attention to the amount you get below all the services or products you include in a quote.

If needed, you can also add an attachment to your service.

Also, put a deadline into the Estimated time field.
Confirm and send
Once finished, press "Submit Quote". Your offer will be sent to the customer to check out and accept or decline. Please, don't start the project until the customer accepts and pays for the quote.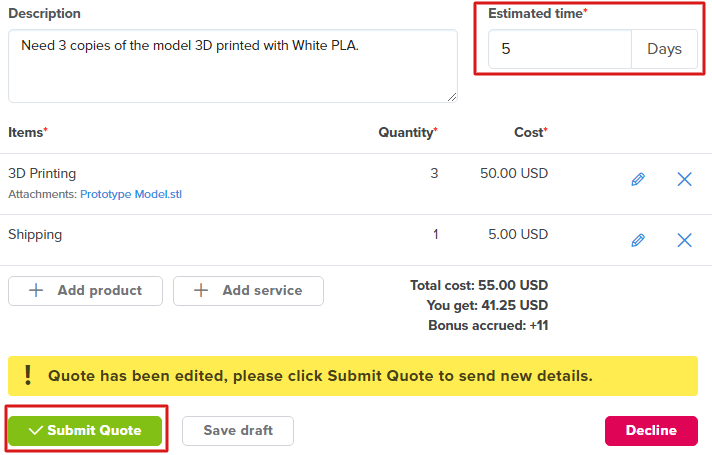 In cases when you aren't sure about the pricing or have additional questions for the customer, you can use the message bubble to contact them. Make sure you remember to come back to the initial quote and add in the offer once you figure out the project details.
For quotes that you don't want to accept, use a Decline button on the page.
Was this article helpful?
|
---